Description
LGX© Direct Drive for Sidewinder X1 with Mosquito Magnum Kit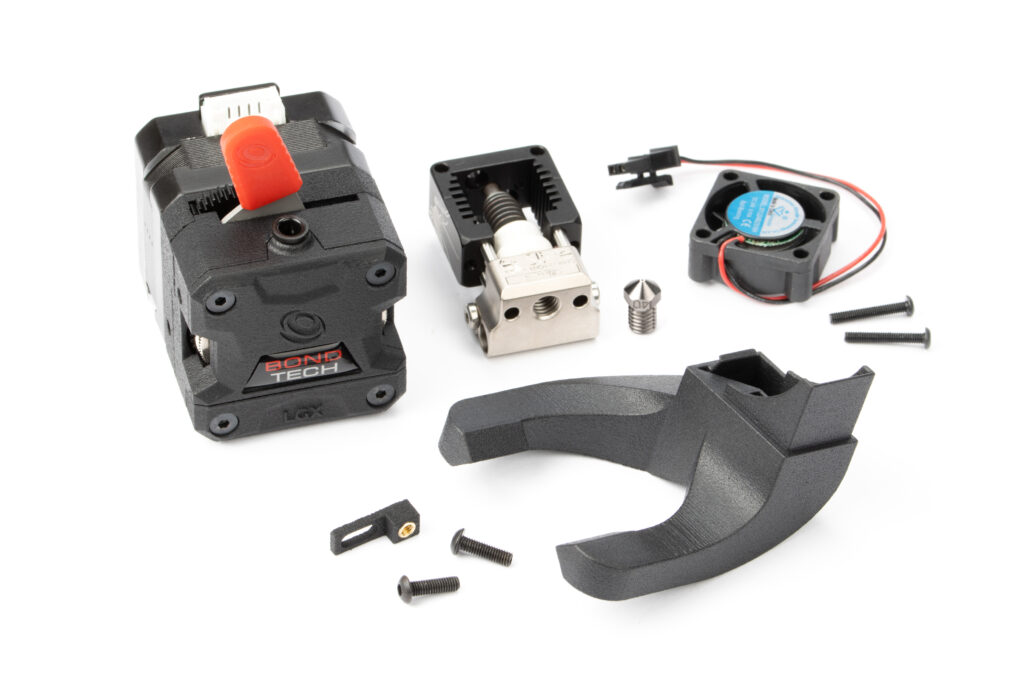 The Direct Drive Interface Plug can be used to fit the LGX© with a Mosquito© Magnum hot end.
Recommended for manufacturing users.
Structural strength for intensive use, and access to engineering grade plastics, when manufacturing meets high flow requirements.
What's new:
The 5 big innovations that come with the LGX™.
Larger Drive Wheels for increased filament grip.
With the larger hardened steel drive wheels of the LGX™, more teeth are in contact with the filament simultaneously, resulting in increased filament grip and less risk of material grinding.
Comes with a fail-safe mechanism. Strong grip and no grinding will make the custom stepper motor skip steps in case of a clog or jam, sounding the alarm that something is wrong while not worsening the problem or causing damage.
Filament pre-tension lever for repeated results.
No more struggling with the thumbscrew, spring and hinge to load and unload filament and no pre-tensioning of the filament in between the gears by guessing.
The new pre-tension lever mechanism allows for easy filament load and unload plus 5 repeatable filament pre-tension pre-sets to use abrasive, rigid, semi-flexible, flexible and soft filaments.
Multi-function interface sockets for tool or application quick swap.
The front Multi-function Interface Socket allows going from Direct Drive to Bowden and back in a breeze or swapping hotends quick and easy.
Compact, light and symmetric design for increased compatibility and performance.
This Bondtech new Dual Drive Technology enabled extruder packs additional features and capacity in an original and compact design.
Almost as small as a 25mm Nema 17 pancake stepper motor, the LGX™ is a very light and flexible unit, easy to install, at a record-breaking low weight of 218.6g. It features symmetry with a very short filament path flowing through a central axis, preventing the need for standard and mirrored versions.
Drive wheel maintenance windows for easy cleaning.
Dust or other particles on the filament surface can shed inside the extruder. The accumulation of this debris can be negative to the functioning of any extruder, and the LGX™ is no exception.
The 2 windows that partially show the drive wheel teeth give easy access to brushing their surface, but also to blow air through the extruder, or vacuum clean the inside. There is a much lower need to disassemble the extruder to keep it clean.
BOX 1
1x LGX©Extruder
1x Custom Nema 17 25mm pancake stepper motor
1x Bowden Interface Plug with threaded metal push-fit
1x Direct Drive Interface Plug
1x 2mm Hex Key
BOX 2
1x PA12 snap-fit fan shroud for Mosquito
1x PA12 z-axis end-stop spacer
BOX 3
Mosquito©or Mosquito©Magnum hotend
24v Mosquito fan
Bondtech Coated Brass Nozzle M6×1×7.5×12.5 1.75 0.4mm